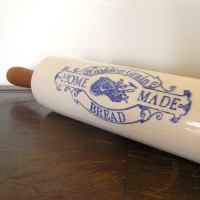 When I moved into my first home and began cooking in earnest, I found my kitchen supplies lacking.  I realized one tool I needed was a rolling pin.  I bought and use a standard wooden rolling pin at the thrift store.  Because of my inexperience with cooking from scratch, my first cooking cursing was due to the dough sticking to the wooden pin.  Eventually, you get the hang of it, add enough dry flour, keep the right amount of pressure on the surface, and fall in love with your primitive tool.
In the meantime I sought after an option to the wooden pin and found this vintage ceramic rolling pin.    I thought the smooth non porous surface would eliminate the sticking issue.  Ultimately, I got the hang of the wooden pin and never used this ceramic pin.  I love it for novelty purposes and decoration.
So time has come to pass this vintage gem on to you.  I've listed this item in my Vintage Finds page here at Summit Ridge Studio.    My plan for that page is to list items, one at a time, highlighting deals for the month or week.
So if you are interested you can email me at anneemcgraw|at|gmail.com with your offer or queries of interest.  Or comment below and I can contact you.