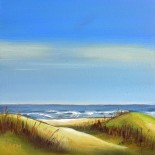 This year I was unable to go to the Outer Banks (North Carolina) for my family reunion.  I instead painted a small painting of the dunes over-looking the ocean.  I know I have spoken about this before (about why I love painting maps and landscapes), but I truly do believe as we create we transport ourselves into our painting while we work.  At least I do.  That is how I worked in Architecture when I had to create a floor plan or figure out a stair section.  I would just close my eyes and imagine myself there in that space.  I would figuratively go through it in my head and open my eyes and draw exactly that plan or section.  And there really is no other way to keep track of it all other than that.  It might sound artsy to say, but really, if I asked you to recall a day in your past, you would roll your eyes up in your head and try to physically recall being there and remembering.  And that is how it is with painting a landscape or a memory as well.  You just try to recall being there.  You may not get the exact details right, but you do your best to "paint the picture" and translate it for your audience.
I guess I said all this to say, even though I was not at my family reunion this year, I painted this picture so that I could be there.  I was there in spirit. 🙂
My cousin wanted to give a painting of the Outer Banks to her parents for a Christmas present.  If I can say that any one member of our family loves the beach, it would be her parents.  They are the couple who go down with the chairs, books, and boards at 9am and do not return until lunch and dinner.  They swim, walk, and read by the beach.  Basically, if the sun is shining you don't even ask where are Bob and Sue?  You know exactly where they are.  🙂
Kelly saw this painting in my shop and I suggested that it should include two people reading at the beach to represent her parents.  Cousin Pete's request was that Bob's hat was in the painting.  I laid out the perspective, a canvas size, sent a few sketches, and after final approval started painting.  It took a full day to get it right and get the paint on the canvas.  After that was getting the details right and a few more paint daubs.  Then, the waiting period begins, a few weeks for the oil paint to dry and a high quality gloss varnish is carefully applied.  The high quality linen canvas, several applied Gesso layers, quality oil paints, and varnish will insure that this painting will last several lifetimes.
I've kept it secret, until now, because it was a surprise Christmas present and I am so happy to share it with you all now.  In the end, the gift was so well received.  And I couldn't be happier.  I had such fun painting it.  And I love even more that it is a gift of art within the family that will be past down generations.