I love the farmhouse, rustic, cabin in the woods decor.  I think that is a lot of what my new 'Summit Ridge' branding is all about.
I just finished a new crochet rug for the shop.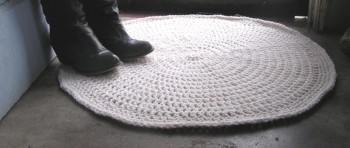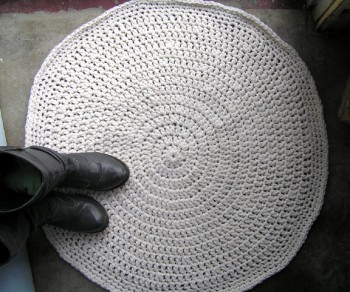 Made of  100% virgin moth proofed vintage wool yarn that I acquired through a swap.  Crocheted, two strands of wool yarn together, to a 30″ diameter and a plush thickness.  It's durable because of the thickness to have in your mud room, but also would make a perfect home in your bath or kitchen.
Color: Ivory; off white
Material: 100% virgin wool; mothproofed
Size: 30″ diameter; thick; weighs approx. 14oz.
Care: Wash in lukewarm water with mild soap, air dry; Dry clean as needed.
.
I have a personal hand crochet rug that I made over 5 years ago that is still in mint condition, considering I walk on it everyday through my front door.  I bought a rubber mat at the Big Box store and have it under the rug to keep it from slipping.
Here is a photo of that rug upon first completing it on Flickr and Ravelry.
(The Flickr account should be public, the Ravelry account is for  members only, however, the same photo is available on both sites.)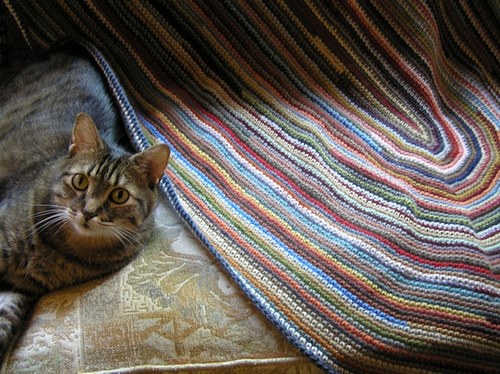 And here is a photo of that same rug 5 years later.
.
And yes, my inspiration for this painting.
And so I am working on a few other hand crochet rugs,
here they are in progress.