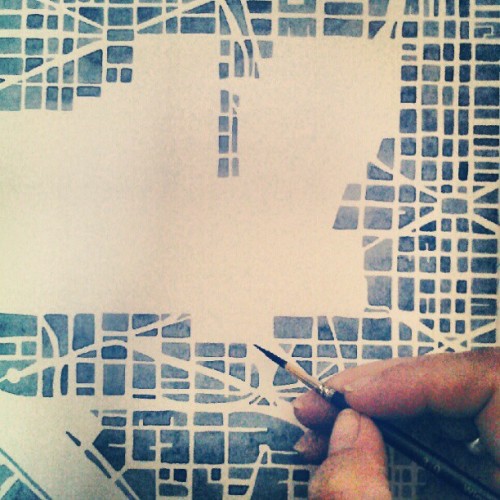 Feedback from customers:
"Wow. That is all I have to say. This custom painting was perfect. I had it done for my boyfriend who grew up in St. Louis and he absolutely loved it. We made a wonderful frame for it and it is absolutely beautiful."
"Anne was such a pleasure to work with. We went back and forth many times in order to firm up the details of the maps I wanted and I was really impressed by her attention to detail and eagerness to make the maps exactly as I wanted them. The finished products are really exquisite and are going to make gorgeous gifts. The colors are rich and vibrant. I've shown them to several people who are astounded that I found such beautiful artwork on Etsy. I highly recommend Anne and her work! In fact, I'm asking her to do another commission for another gift this summer!"
"Wonderful etsy'er; helped to make many special customizations. Will definitely tell others and shop with again! Thanks!"
"As always, this was beautiful and made for a wonderful anniversary gift. Anne has always done amazing work on all my orders! Thank you!"
"I recently asked Anne to create a map of Downtown Buffalo as a gift for a wedding. She was extremely accommodating of all of my preferences and created a beautiful piece that is better than I could have imagined. She kept me informed on her progress and completed and shipped the painting well before the deadline I had asked of her. I am absolutely thrilled with my purchase and I know my friends will be too!"
"As always, the work of Summit Ridge is INCREDIBLE!!! Thank you so much for this custom work – it's one of a kind"
"This is so beautiful in person and my husband loves it!!! It was going to be a Christmas gift but I was too excited when it arrived. Thanks for creating a little memory of his favorite place on earth."
"I LOVE my watercolors. I ordered 6 cities total, 4 of them custom, and Anne really listened to what I wanted. The level of detail in each is different enough that they don't all look exactly the same. It was a fairly big project and she was so easy to work with and the turnaround time was very reasonable. I'm really pleased with the collection and I get so many compliments on it."
and more . . .
Poppytalk Indie Shop of the Day