Custom Hand Painted Watercolor Maps
Include in your email:
**An address or landmark to center the painting.
**Boundaries or areas you want to make sure are included.
**Colors:  You can pick any colors you wish!
**Custom requests, place a heart at a location, add a special message written on the painting, add a special date like wedding or anniversary, or birthday.
**Deadlines! Turn around time varies per size of the painting and level of detail.
I will contact you right away to confirm your request.  Once payment has been made, I will start a digital sketch of the map for your review of the composition. Progress shots of your painting will appear on the blog portion of my website.  You can follow along and share with your friends your custom watercolor map as it is being created!  Once completed I will send you a picture of the finished painting for your review and if there are any adjustments I can make before shipping. (Only minor alterations can be accomplished with watercolors, such as darkening or lightening the colors. Any issues with scale or layout cannot be altered and is nonrefundable.)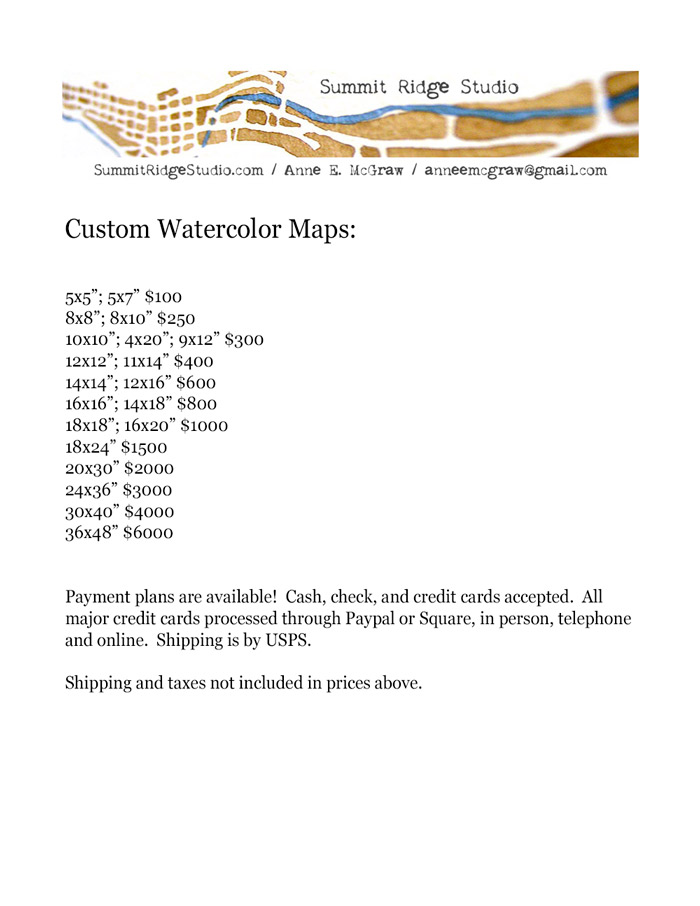 Prints and Available watercolor Maps

Framed Prints, Canvas, iPhone Cases and more